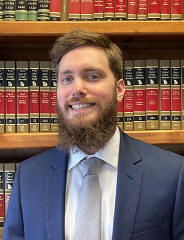 Mr. Medford graduated from the University of Georgia with a Bachelor of Business Administration in Finance in 2015. During his undergraduate work, he received certificates in Legal Studies and Music Business from the Terry College of Business and minored in Spanish through the Latin American and Caribbean Studies Institute.
He graduated cum laude with a Juris Doctor from Mercer Law in 2018. While in law school, he wrote on to Mercer Law Review for his second year and remained a member during his third year.
Mr. Medford joined The Law Offices of Emmett L. Goodman, Jr. LLC in 2019 and specializes in collections and contract law. He is a member of the State Bar of Georgia and its Entertainment and Sports Law Section.